5 Steps To Doing A Pop-Up Show
July 19, 2023
/
/
Comments Off

on 5 Steps To Doing A Pop-Up Show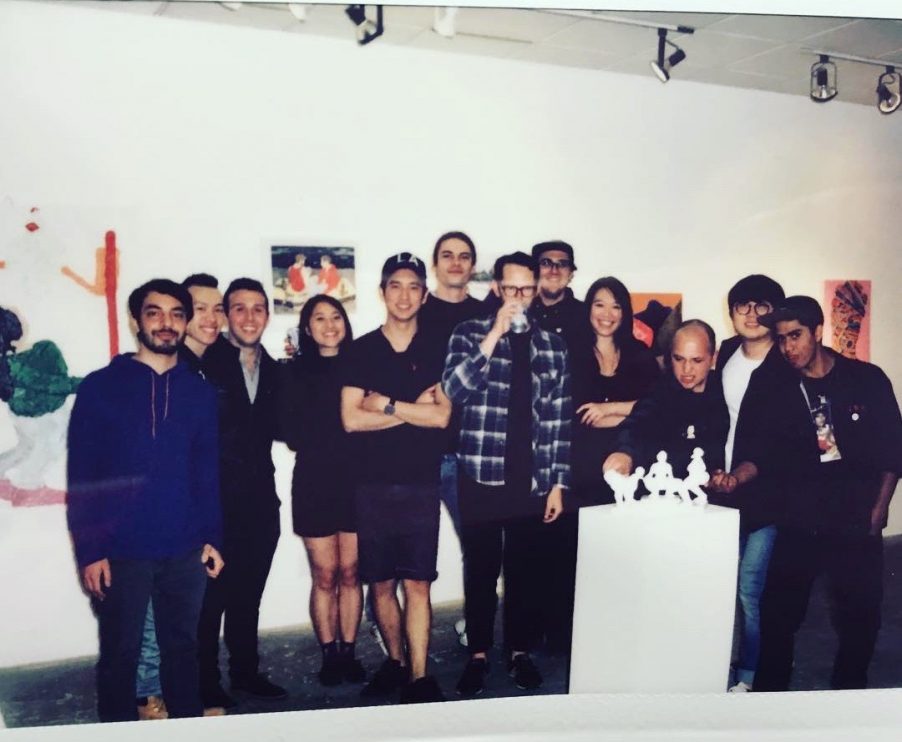 Here is their step by step guide to doing your own pop-up show.
1. Gather a group of artists you know and whose work inspires you.
Have a grand vision that makes your heart sing.
Send out mass emails to incredible artist peers that you find inspiring and amazing.
Share your vision.
Come up with a bad ass name for the group show.
Set group conference calls to discuss project goals and make sure everyone is on 
board. *Hint: most free conference call programs do not accommodate more than 
10 people. Woops.
Get everyone to agree on a given set date to do show.
Agree on a budget. We're all poor, up and coming artists!
Create teamwork by offering responsibilities as opportunities. Allow participants 
to step into their leadership. Don't let anyone feel like they're on their own. This is a team effort.
2. Find a location.
Location scout! Have members volunteer to research and inquire about available 
gallery spaces for rent.
Have a group go to the location in person and check out if there are any kinks.
Report back to group with locations and pricing. Some are really cool but really, 
really expensive.
Have faith! We chose a place that was higher than our budget and decided to raise 
funds to help with the costs. How did we know we would make enough money? We set up a bonfire and sat in a circle around it chanting "we got this, we got this, we got this" (But seriously, we basically just believed in the quality of our work and put our faith in the amazing people who have been supporting us throughout our artistic endeavors.)
Take a stand that it will all work out.
Be committed to workability, teamwork, fun, and love. Make sure everyone is heard and is included in the decision making process. Seek alignment from your team as you proceed.
3. Fundraise.
Find the one person in our group who is tech savvy enough to set up an Indiegogo 
page!
Decide on prizes. Luckily, everyone is such a prolific artist, we have more than 
enough artwork to donate.
Once the platform is set up, send the link to everyone you know!
We mean everyone you know.
Continue to take your stand.
Love each other madly.
Don't let your feelings, concerns, or doubt run the show (literally).
Let your 
commitment run the show.
Make powerful requests. Ask for what you need.
4. Spread the word.
Design promotional items. There is no shortage of talent in the group.
Send out press release for upcoming pop up to every art blog and other 
promotional platforms.
Instagram is your best friend, spread the news like wildfire.
Keep standing.
Keep loving.
5. Set up and installation.
Organize a time and place where everyone will deliver and set up artwork.
Build tiny, adorable mini model to plan out the layout of the work.
Improvise a hell of a lot as you set up artwork hours before the show opens. (Hint: 
Next time bring more snacks. Promises of alcohol also helps boost morale.)
Be so loving that you can't feel yourself.
After everything is done and it becomes time to open the doors to let the public in, 
relax and watch as people come in to appreciate all the hard work you've put into 
this.
Through an unwavering stand and commitment, the show will be wildly successful 
and your crew will create team and teamwork with great fun and ease. Now you have a real accomplishment and an unbreakable bond between your fellow artists.
Participating artists: Addison Eaton, AJ Dungo, Alejandra Fernandez, Aryo Toh Djojo, Billy Frolov, Bryan Sang Park, Cassie Zhang, Chris Youssef, Eddie Bong, Edward Cushenberry, Hertz Alegrio, Jacob Lenc, Jon Kvassy, Lacy Lamb, Lily Liyi Chen Maxwell McMaster, Sally Deng,Tom Eichaker, Zach Mendoza, Zander Bice