Meet Kadenze: The Future of Creative Learning
July 19, 2023
/
/
Comments Off

on Meet Kadenze: The Future of Creative Learning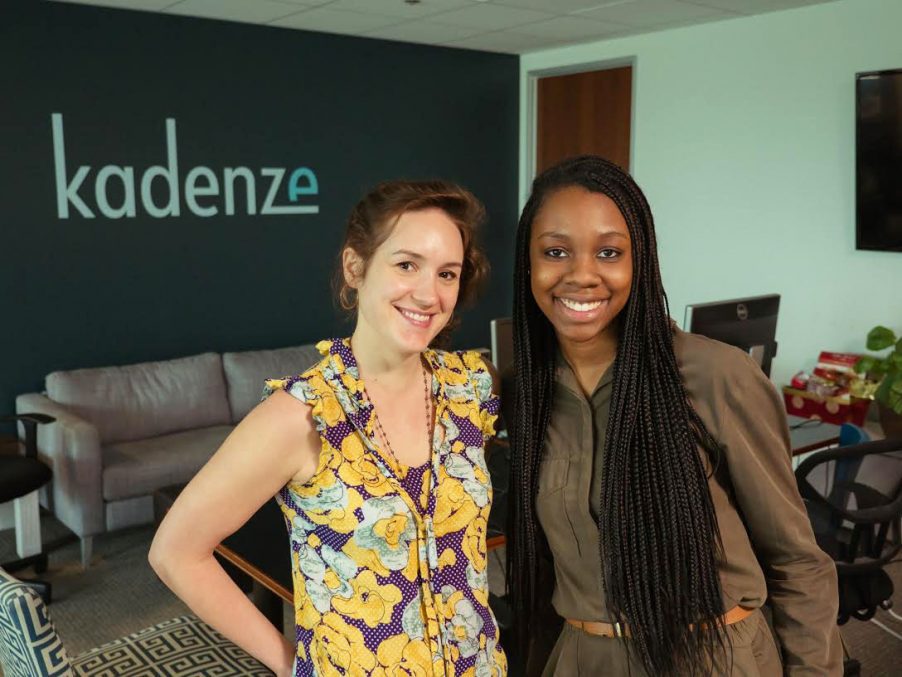 Kadenze is a purpose-built online learning platform for the arts and creative technology. It pairs world-class instructors with a beautiful and innovative digital platform that's built to support arts-based curriculum and deliver the best possible online experience. Two members of the Kadenze team shared their own creative journeys with Artzray and why creativity is at the heart of all their work.

Meet Harmony, Director of Academic Relations/Instructional Designer & Producer – Harmony Jiroudek is a vocalist, composer, producer, and instructional designer. She is currently the Director of Academic Relations at Kadenze and continues to perform and teach in and around Los Angeles, CA.
Meet Johnae, Communications & Social Media Manager – Johnae McDonald is a singer/songwriter, creative visionary, and self-proclaimed digital nerd. A new addition to the communications team at Kadenze, Johnae is merging her passion for the arts with her professional background in digital marketing & communications.
Q & A
Tell us more about Kadenze.
H: Kadenze is an arts and creative technology-focused MOOC platform. Our #1 mission is to expand access to world-class education—in the fields of art and creative technology. The Kadenze team is a community of artists that partner with instructors from leading universities and institutions, to teach the next generation of creatives. This is also an experiment on how we can use cutting edge tools to re-imagine what the future of creative education can be. What we provide is a community where people can learn new skills, share their work, and discuss one another's work.
Why are you there? More importantly, how does Kadenze fit into the mission of bringing higher education in the arts and creative technology to the world?
H: Having previously worked as an admissions counselor (at CalArts), it brings me so much joy to know that prospective students now have Kadenze as a resource to connect to their dream schools. I truly believe in our mission, and appreciate the amount of care and attention that goes into curating and creating these courses. I work with an amazing group of people. Everyone here is creative in their own way, and extremely supportive of one another.
J: I'm at Kadenze because I am SO down for the cause. Knowing how expensive arts schools can be, it's amazing to see this tech start-up—just shy of a year old—shake things up and change the game. I joined the company not too long ago. When I came across the job opening for the position I'm in now, I immediately fell in love with their message that a career in the arts isn't an option solely for the elites. The fact that their mission is to make creative education accessible to everyone is really empowering. That's what makes me so thrilled to get out of bed and come to work five days a week. The impact that technology has made on everyone's lives is also an exciting thing to watch and partake in.
Being that you both have a background in the arts, why do you think it's important to be creative?
H: Creativity is a vital component to happiness. Regardless of our passion or area of expertise, creative thinking encourages flexibility and spontaneity, leading to more unique and fulfilling lives. It's exciting to apply a social skill set creatively and meaningfully in the real world.
J: Responsibility tends to suck the fun, and oftentimes joy, out of some people (especially if money is their top priority). When you're not doing what you love, it's easy to lose yourself in the hustle and bustle of the real world. So to me, creativity is a form of escapism for those who don't get to experience it 24/7, and a means to high life satisfaction for those who are in creative careers.
How has art personally impacted your lives?
H: I grew up in a very loud, musical, and artistic home in a small, rural town in Oregon. My father is a musician, writer, photographer, and of my 3 brothers, 2 are musicians. I was actively involved with the local theater, high school choirs, and dance classes. My parents, both being very selfless, have been extremely supportive in providing opportunities and access to the education my brothers and I have received. Going to CalArts as a student was an eye opening experience, and over the years my appreciation for various art forms has grown deeper and really guided the way I think about creativity, and artistic expression. Something that I have always struggled with is finding balance between creative fulfillment and financial stability. Often times, the most satisfying projects are not the most monetarily rewarding. Now, as a Kadenze team member, I am beyond thrilled to be part of this movement in making high-quality arts education more accessible and attainable to students all around the world.
J: I've practically been exposed to the arts since birth. My mother is a singer/fashion designer, and the apple doesn't fall too far from the tree because I followed in her footsteps. Watching her pursue her passions growing up inspired me to do the same. I've dabbled in many different genres of art including music, theatre, dance, and fashion. The unforgettable experiences I have had learning these different art forms have impacted me in such a way that I could never see myself neglecting my talents and living a life stripped of purpose. Art isn't just what I do, it's a part of who I am. And being able to witness others take steps towards following their dreams—by taking Kadenze courses—makes me one happy camper.
Follow Kadenze on Social: