Arts for LA Joins LA Youth Vote
July 19, 2023
/
/
Comments Off

on Arts for LA Joins LA Youth Vote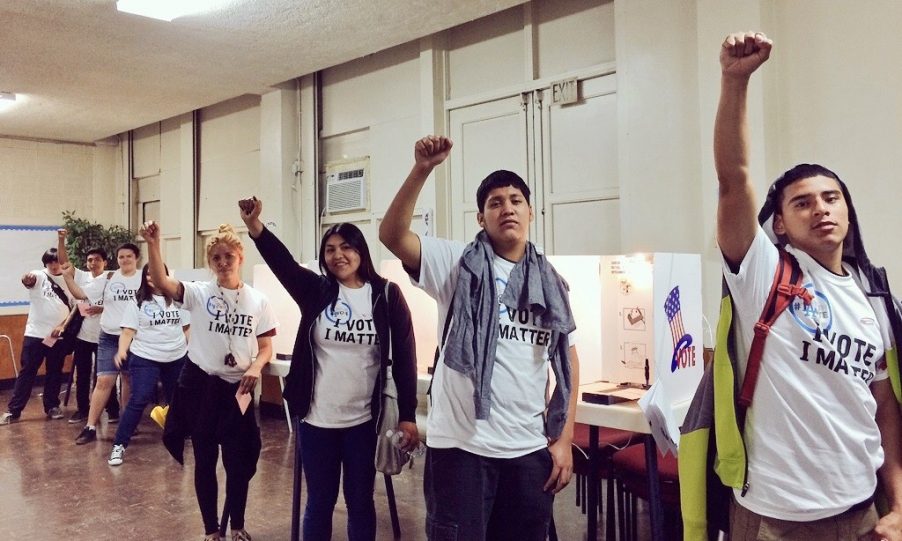 Arts for LA partners with the LA Youth Vote campaign.
Student voices matter! High school students and young people have the power to ignite change and impact elections. Are you ready to express your voice and vote? I believe every single voice matters and it's up to us to use that voice to create the society we want to see. I'm Cristina Pacheco, the Director of Programs at Arts for LA where I train community arts advocates in areas of policy, leadership, coalition building, and communication. I'm also a musician and creative and I vote. I believe especially as artists we have a platform to use our work to inspire others to action.

Last year, as part of the LA Youth Vote coalition, Arts for LA helped to register 3,000 high school students to vote and then walked with them on Election Day to cast their first vote. I marched with students from Maya Angelou High School to the polling station and we voted together in an important local election.With election season coming up, I am even more excited to participate in the LA Youth Vote campaign again. My organization, Arts for LA, has joined the United Way in collaboration with the League of Women Voters, LAUSD, Mi Familia Vota, SEIU Local 99, the LA County Registrar, Assemblymember Jimmy Gomez, and Secretary of State, Alex Padilla, for the second annual LA Youth Vote. This year, with the presidential election in the headlines, we hope to make the LA Youth Vote bigger and better.
"The Secretary of State and LA County Registrar now have a system to pre-register 16 and 17 year olds, creating an opportunity to engage more than just the Senior class."
This week kicks off the official "High School Voter Education" weeks (April 18 – May 16) and it's time to come together as students, teachers, and community volunteers to conduct voter outreach and increase awareness for the importance of voting on high school campuses.
You can get involved too! If you're in the Greater Los Angeles area and want to participate, we need:
Communication to school site principals to bring them on board for the initiative.
Student leaders who want to be trained to lead a registration and awareness campaign on their campus.
A commitment to support the registration and awareness campaign either by promoting LA Youth Vote online and using the hashtag #LAYouthVote
On Saturday, April 23 student leaders will get trained at the LA Youth Vote campaign kick-off event at Maya Angelou High School (300 E 53rd St, Los Angeles CA 90011), from 9:30 am to 12:30 pm. If you know students or school sites who would be interested in participating or would like to join yourself, please RSVP HERE.
We each have the power to shape elections, policy, and critical change for our communities. Raise your voice and join the #LAYouthVote movement today!